Product Returns

Electrical equipment and batteries contain valuable raw materials that can be recycled in order to protect the environment and conserve natural resources, and in some cases they also contain hazardous substances which can cause serious harm to health and the environment. Waste electrical equipment and used batteries must therefore always be handled properly and disposed of correctly.
The following explanations refer to the legal situation in the Federal Republic of Germany. Owners and end-users outside of Germany who are subject to other regulations are obligated to comply with the applicable requirements and to implement them correctly on site. Further information can be obtained, for example, from the responsible authorities or the distributor.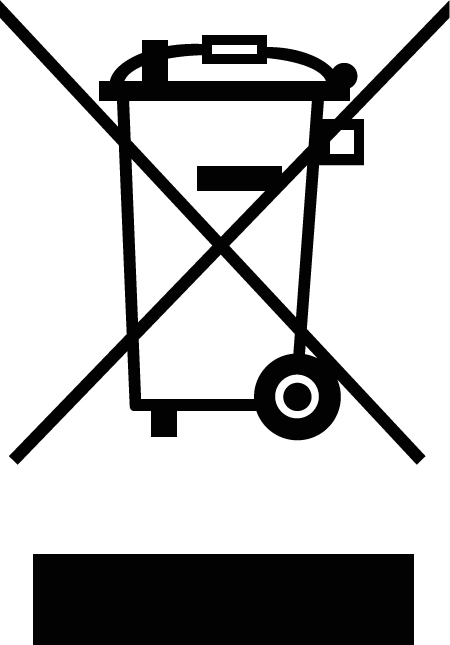 The symbol depicting a crossed-out garbage can on wheels refers to the legal obligation of the owner or end-user not to dispose of used electrical equipment and batteries with unsorted municipal waste ("household trash"). If possible, used batteries should be removed from the old equipment in a non-destructive manner and in the discharged state. Before removing the batteries, the instrument and the measuring connections must be disconnected from the mains. Within this context, the instructions and recommendations included in the product documentation, as well as the warnings which appear on the instrument, must also be observed. The old equipment and used batteries (in discharged state or with appropriate precautionary measures against short circuiting, e.g. by insulating the poles with adhesive tape) must then be correctly separated and handed over for proper disposal by authorized disposal service providers or the responsible public waste disposal authority.
Please observe the owner's or end-user's responsibility with regard to deleting personal data, as well as any other sensitive data, from waste equipment before disposal.
In order to fulfill our obligation to take back waste electrical equipment of our own brands and used batteries free of charge, we have implemented a convenient procedure for the return of such equipment by owners and end-users: you can return your waste equipment which has been used in Germany, as well as any associated used batteries, to us at any time with a note requesting disposal, or you can drop them off there during regular business hours. Receiving your waste equipment and any associated used batteries, as well as subsequent recycling by the disposal service provider commissioned for this purpose, are of course free of charge for you. Free return also applies to waste equipment of our own brands or other equipment we have sold, even if it didn't fall within the scope of free returns in accordance with the Electrical and Electronic Equipment Act (ElektroG) when it was introduced to the market, but is now to be disposed of accordingly.
We have contracted a certified disposal service provider for the disposal of waste equipment and we participate in the return system of the "Stiftung Gemeinsames Rücknahmesystem Batterien" (foundation for a common system for the return of batteries – GRS) for the disposal of waste batteries.
Waste equipment and used batteries from private households can also be returned free of charge to the distributor (retail store) or to the responsible municipal collection point.
Attention: Depending on nominal energy, lithium-containing batteries are considered hazardous goods and are subject to applicable regulations for hazardous goods. Within this context, observe the documentation included with the corresponding products as well. The poles must be covered with insulating tape for safe disposal in accordance with the regulations. This reduces the risk of short circuits which may represent a significant fire hazard.
Outside of Germany, waste equipment and used batteries are disposed of locally. Only return waste equipment and used batteries to us for disposal from outside of Germany in exceptional cases if you are permitted to do so in accordance with the applicable legal requirements, if you have the necessary official permits and if we have expressly consented to this procedure in writing.